In 1946, Walter Stace and Joseph S. Allen partnered to solve a growing need in post-World War II manufacturing. As machinery became more complex and output targets increased, companies needed more than standard workholding options. With their engineering backgrounds and understanding of the industry, Stace and Allen's joint company quickly developed a reputation for quality custom workholding solutions.
Since then, Stace-Allen has never left family hands, and never compromised on that first commitment to quality and expertise. Now led by Allen's grandson, Philip Grimes, the company continues to operate from our original headquarters in Indianapolis, but our customer base has grown from local companies to regional, national, and even international clients.
With more than 75 years of experience and expertise, we continue to ground our work in meeting the needs of ever-changing manufacturing processes. Now, more than ever, the companies we serve need unique solutions to set them apart and drive their success. Stace-Allen's commitment to service and quality makes us a trusted resource for retooling, retroengineering, and reimagining the workholding solutions that keep our customers at the top of their markets.
WE VALUE OUR CUSTOMERS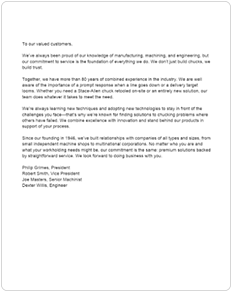 Our leadership
Philip Grimes
PRESIDENT
Robert Smith
VICE PRESIDENT
Joe Masters
SENIOR MACHINIST
Dexter Willis
LEAD ENGINEER
Our commitment
Stace-Allen stands for quality, expertise, and service. We design custom solutions for the world's most complicated workholding applications. Learn more about what it's like to work with Stace-Allen and how our team can help keep your production online and on-time.
SEE WHAT SETS US APART